Click here for the 2024 Membership Application Form
Hello everyone,
Hope you've all enjoyed your horses & ponies this summer. 2023 is providing us all with much easier riding conditions than in 2022! However Autumn wind and rain has become quite challenging at times!
As the evenings close in there are still lots of club events to look forward to
Training continues throughout the year with regular sessions of 'Coaching and Cake' at Broads Equestrian Centre on Thursday mornings with Hayley Chilver, friday fun evening sessions with Megan McClean, regular pole and grid-work sessions with Emma Lacey.
Plus we welcome back Ellie Towler for some Saturday sessions either Show Jumping at Grove House Farm or Broads indoor arena at Barnby. This year the 2023 Dressage Competition & Members League venue was at Broads Equestrian Centre, Barnby starting April 23rd through to October 8th.
Non league Unaffiliated competitions (open to everyone & not just members) will also continue throughout the colder months with the first on November 26th.
If you fancy having a go at representing the club in British Riding Club Competitions, please contact either Katie Brown (Senior Dressage) or Michele Hurst (juniors and other events) – there is something for everyone, from dressage both regular and to music, show jumping & eventing. The qualifying for the British Riding Clubs summer championships run from May, held on all weather and grass arenas across Norfolk & Suffolk. The Winter qualifying events began in October.
Please keep an eye on both the website and our Facebook page for all events and training opportunities.
Looking forward to seeing as many of you as possible at our various events, particularly the Christmas meal & party at the Gillingham Swan Motel 23rd December at 6.30pm. Our lovely member Julie Long is organising this event open to all club members, friends & family. Details below.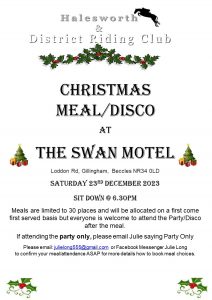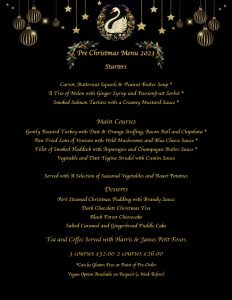 Happy Christmas everyone, take care of yourselves and all your families.
Kind regards
Nicky Virgo
Chairman
need to contact us? please email Wendy Martin horse.pooh@ymail.com