Hello everyone,
Well, what a year it's turned out to be – I suspect all of us were never expecting one quite like it!
As we have struggled through various forms of lockdown, we've all tried desperately to keep our horses and ponies ticking over, in the hope that soon we would be able to get back to clinics, competitions or other outings – it's certainly been a challenge.
Having said all of this, I think, thanks to the amazing people we have as a committee and all of you as our members, been able to run more dressage competitions, training sessions and other activities than perhaps we thought would be possible, and I'd like to take this opportunity to give my heartfelt thanks to everyone whether they be a competitor, an organiser, a volunteer or a venue owner for all their unwavering support during these challenging times.
Its wonderful that everyone is now able to get and about and with the resumption of indoor/outdoor training and larger events, including the cross country camps, everything is looking much more positive and we have really been able to get going and enjoy our horses and ponies.
Our training sessions are continuing throughout the autumn and winter full swing at different venues across north Suffolk. With flatwork, simple pole work, show jumping and Arena eventing there's sure to be something for everyone.
We are very pleased that Earlsway Farm is offering a 10% discount off all arena hire. Lovely indoor facilities, please see below for booking information.
In the meantime, it just remains for me to wish all of you the best for the rest of 2021 and hopefully get to catch up with everyone real soon.
Take care of yourselves and your families.
Kind regards
Nicky Virgo
Chairman
need to contact us? please email Wendy Martin horse.pooh@ymail.com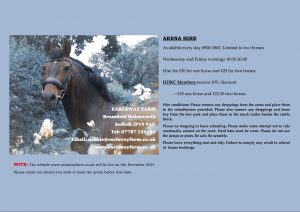 Click here for the 2022 Membership Application Form