Hello everyone,
We have a really full programme of events lined up for you all to enjoy this year, we started with indoor show jumping training with Emily Lochore at World Horse Welfare in January – don't worry if you have missed it, I am sure there will be many other opportunities to train with Emily as the year progresses, including this years Senior summer 2 day camps at Blackwater Farm & Forest Edge.
We also have a full programme of dressage competitions, which started in March and run all the way through to September. We are once again be based at Grove House Equestrian in Spexhall by kind permission of Carl Pritchard and Darren Nunn. These competition days have been a huge success in the past, largely thanks to the efforts of Sue Batchelor and the rest of the team – and of course all of you for coming along and making the day so enjoyable. Sue will be stepping back this year to honour her work commitments – so it just remains for me to say a huge thank you to her for all her efforts – I am sure she will be coming along to some of the days, so you will all get a chance to have a chat with her and catch up. Although they are big boots to fill, I will be taking over the running of the dressage competitions this year, so I am looking forward to getting to know you all a lot better.
If you fancy having a go at representing the club, please contact either Katie Brown (Senior Dressage) or Michele Hurst (juniors and other events) – there is something for everyone, from dressage to music to eventing.
Alongside our competition schedule, we have full calendar of training with regular sessions of 'Coaching and Cake' at Broads Equestrian Centre on a Thursday morning with Hayley Chilver, and also at Broads, regular pole and grid-work sessions on a Wednesday evening with Ellie Towler.
September sessions include group & semi private Coaching on the flat and in show jumping with Level 4 Coach Clare Pettitt and a  fun Working Equitation Clinic with Gemma Collison.
Our Autumn Social this year will be a Disco & Pizza party is at Holton Village Hall
As the year progresses, please keep an eye on both the website and our Facebook page for other events and training opportunities.
It just remains for me to wish you all a happy, healthy and successful 2022, and I look forward to seeing as many of you as possible at our various events throughout the year.
Take care of yourselves and your families.
Kind regards
Nicky Virgo
Chairman
need to contact us? please email Wendy Martin horse.pooh@ymail.com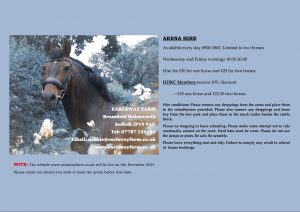 Click here for the 2022 Membership Application Form